If you want to make your blog (or affiliate marketing site) look more special, then we have something to show you. Day by day, Elementor addons are being very popular for adding extra facilities to a website.
In fact, Elementor Page builder is one of the most feature enriched page builder available in market. It is dynamic and flexible. Alongside, it makes things easier for you to showcase. Whether you are designing a web page or adding extra facilities to your site, elementor addons will meet your need. Regardless to say that, every WordPress developer loves to get the best addons pack. This is where, Master Addons is special. As you are looking to customize your blog site, then Master Addons has everything to meet your need.
Plus, being a developer-friendly addons pack, it already has grown with numbers of add-ons.
In this article, I'm going to describe some special addons. No doubt, these add-ons will be very interesting a blogger and/or marketer. Most of these add-ons serves extended features to use in your website. As well as, they will also bring new design options for your existing widgets.
Now, let me introduce the best addons for blogger and marketers. We will suggest you one add-ons pack that comes with lots of facilities.
The very special name is Master Addons. Let's dive into this addons set. Where you'll get every option you need to customize your blog or specialize your marketing website.
Master Addons is a sensational and beautifully designed Elementor Addons Pack.
As you are looking for the addons for Elementor for your blog or marketing site, then Master Addons can help you.
You will get numbers of great elements to turn your ordinary website into extra ordinary. When you are in need of making an appealing blog website, you will need many special widgets to use. This is where, Master Addons is far better than any other add-ons set.
In fact, Master Addons is a set of many important add-on pack. All the add-ons will help your website to bring life. Plus, you can easily enable and disable any widget from the plugin. Moreover, every addon comes with highly customization options.
This plugin gives you access to some special add-ons service. You can use them to make your blog more user-friendly. Plus, all the given widgets will help to bring more traffic into your site. So, you are getting more conversion rate in your website.
As a blogger or marketer, you must know it is important to write the right headline in the website. This plugin lets you make dashing headings. The more your headings are attractive, the more you can seek people's attention. On the minus side, if the headline is simple, the reader will lose interest to browse more on your site.
Thus, the heading of a blog is one of the much-needed aspect. Notably, headlines catches a person's eyes most. So, you must need this add-on to give your headline a stylish look. Animated Headlines let your webpage get an elegant look. As aforementioned, this is one of best addons for blogger and marketer.
Accordion addon can make your contents user-friendly. It is easier for the reader to simply see what the content is about before clicks to read the page.
Advanced Accordion will help your readers to have a quick look to the content. Under each Accordion bar, you'll find every content sorted. Indeed, you have the complete freedom to sorting.
What's more, you can customize many options here. For instance, collapse animation, column color, size and position are available for customization. Furthermore, you can choose from a range of colors and styles options.
Bloggers and marketers need to make people touched with their campaign. A progress bar brings an intelligent touch to your website. You can add an elegant animated progress bar to your site. Which will highlight a certain subject in your blog. Moreover, this addon helps you to showcase the services you offer.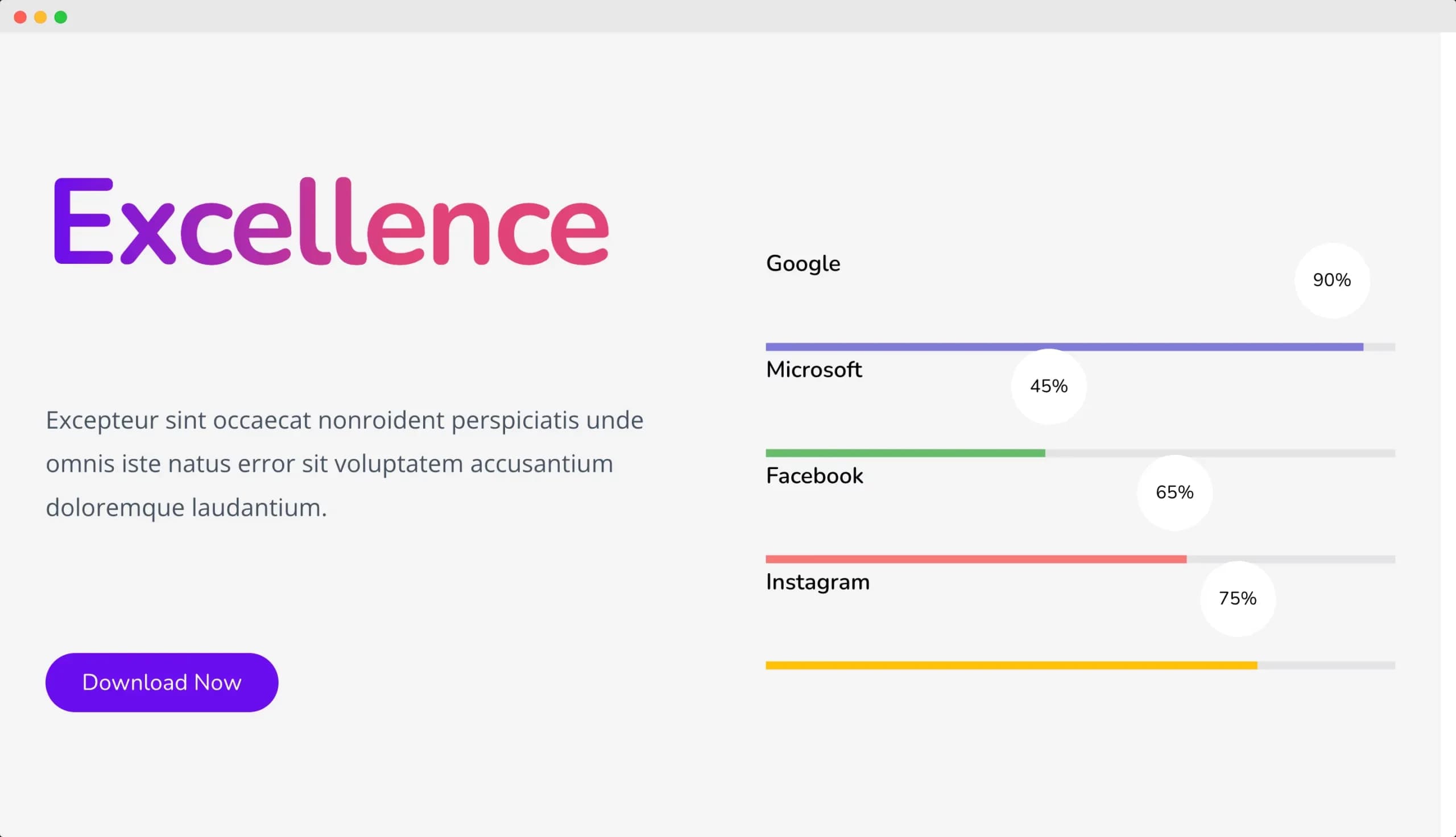 Progressbar includes different styles. Say, Line style, bubble style, circle style. In this way, Progressbar helps your blogs elegantly.
Tooltip is another important addon. It makes your website far and more user-friendly. Thus, you can add information fruitfully. Moreover, tooltips give your reader the option to click on certain image, text or icons. Blogger and marketers tend to make leads to their campaign.
Moreover, you can add more information to your site with Tooltips addon. Tooltips make your site more interactive. You can put information simply in your content. Besides, you can give information about certain words or
images. By using Tooltips you can easily give added information. For more, you have customizing options with tooltips in the Elementor plugin.
While you're searching for an easy way to showcase your services, then you have Flip Box.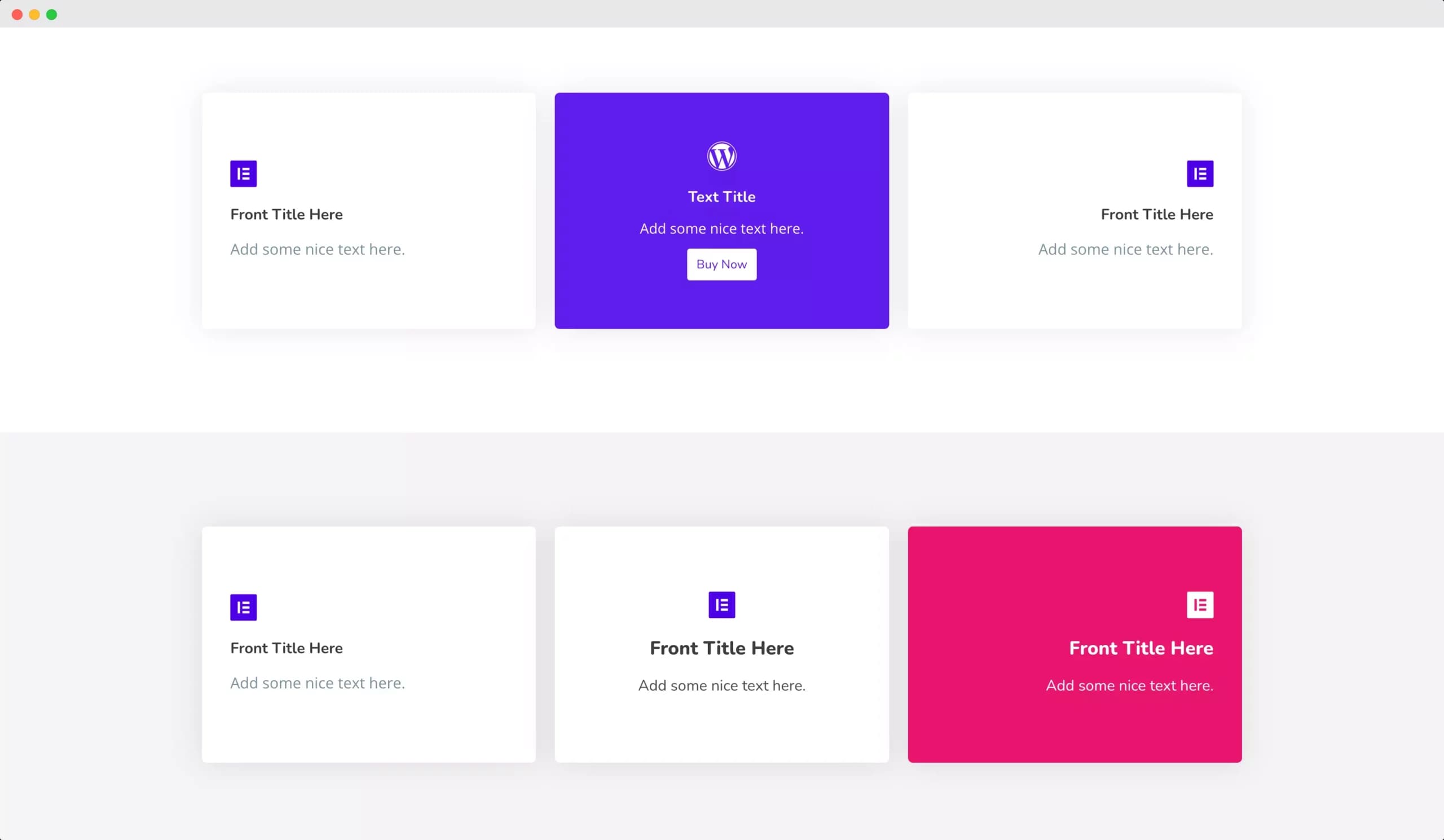 Master Addons Flip Box includes a 3D effect. Plus, it comes with variety of options to your site. Say, Flip box Horizontal, Flip vertical, Flipping Cubes, Fade, Cube, Diagonal and Rollover options and etc. Thus, with its ton of features you will be able to grow your sales and marketing efforts.
To gather more traffic to your site, you need to highlight important information on your website. Plus, to bring a life in your website you'd like Info Box. Indeed, a viewer has not much time to read everything on your website. This is why, he would look for important information in the colorful Info Box. Thus, the reader can easily go through the important information in the Info Box. Moreover, you have Master Addons Info Box with several styles options.
We all know, successful marketers rely on good data for better sales. So, you need Info Box to showcase your service.
You must arrange your blog posts attractively. Blog posts always bring more traffic on your site. However, many bloggers lag behind to set up their blog layout. This is why, Master Addons came with this addon to help you create your dreamy blog. Without any hassle, you will get your blog at its best. You have customization option to - Select Grid, List, Masonry style and define column.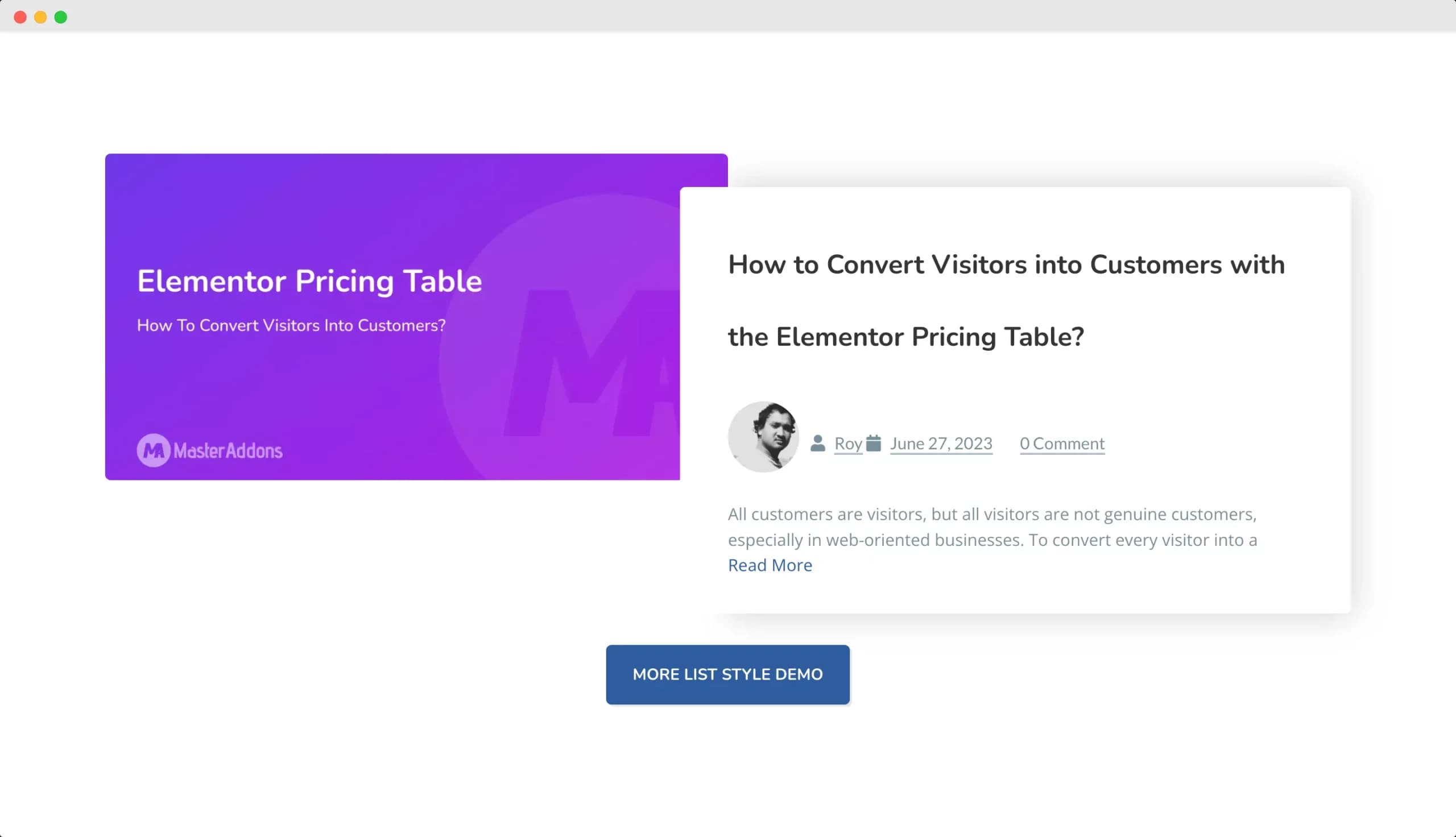 What's more, you can change typo for your headline, meta, and excerpt as well. Thus, Master Addons Blog comes with all necessary features you need.
You can create blog post or news using News Ticker. Notably, you have many ways to showcase your site with this ticker. Including, type, id, last modified time, date of publishing, author, and much more. One thing you should know, this addon has no predefined style. But it is fully customizable. You can customize each part of your blog. Plus, you can import many variations from
Master Addons content importer. With all its specialties, News Ticker is considered as one of the best addons for blogger and marketer.
Importantly, it's essential to put a title of your image. The Image Hover effects will help you to display your website. You can add 20+ amazing Hover effects available in this addon. Besides, you will get predefined style. Moreover, the hover effects are highly customizable. You can select Typo, Border, Background color, text color etc.
Thus, this plugin is designed to create photo galleries in WordPress. Indeed, Image Hover Effects is very essential add-on for digital marketing.
Last but not the least, we have kept Call to action to end this article. Simply, the Callout! This is such an important addon for any blogger. As you know, blogger and marketers tend to make more leads to their pages. This is why, they need to attract the readers with nice 'call to action'. Here you will get saved call to action to use.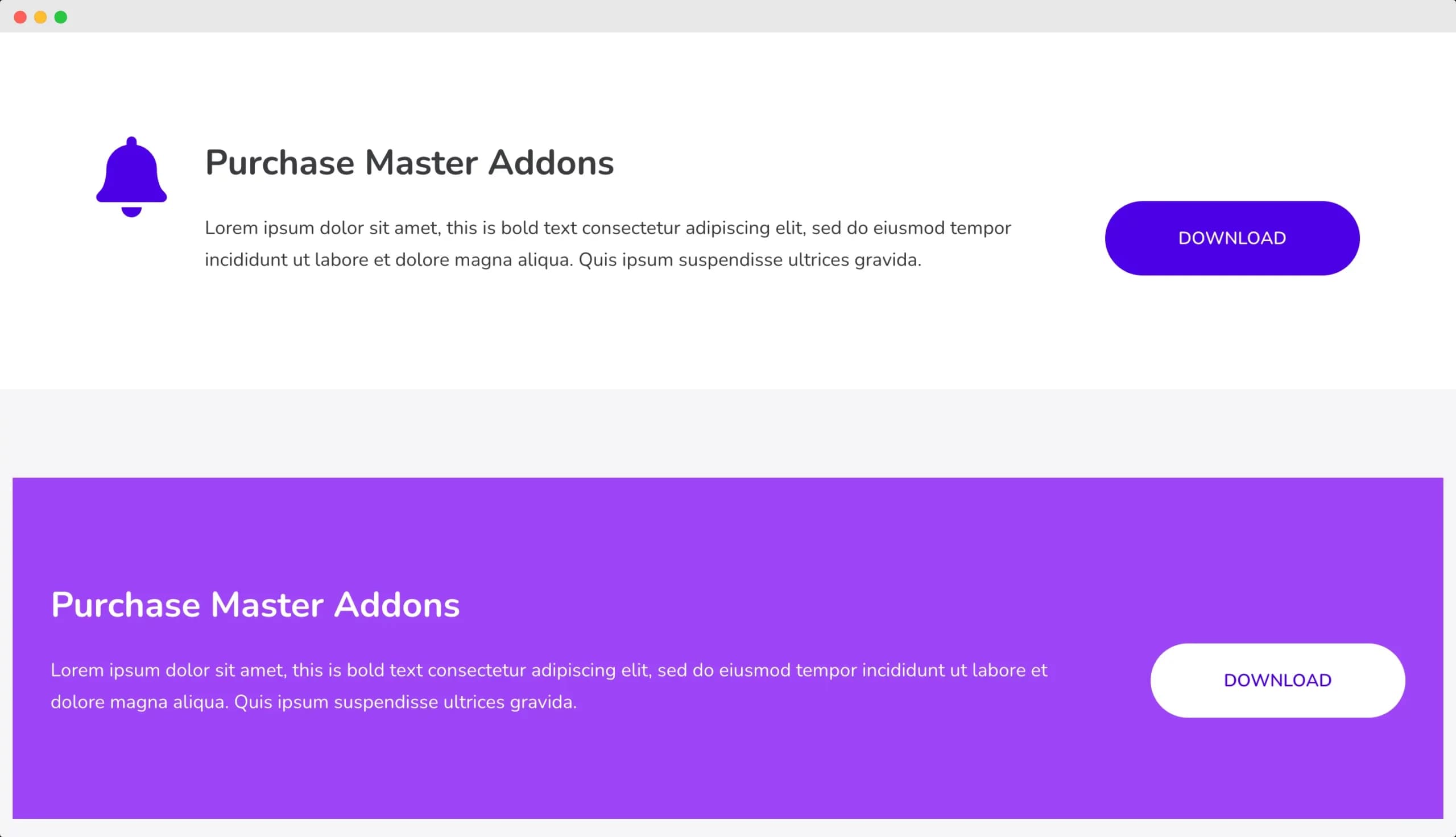 Thus, it becomes one of the best addons for blogger and marketer. So, wait no more. Check out the best result to bring callout in your site.
Last of all, this can be said that, all these add-ons typically make your site marketable. Every elements in our list will attract affiliate marketers and bloggers alike.
Let's wrap up!
In this article, we have tried to give a pen picture of best addons for blogger and marketer. No doubt, these addons will be beneficial for you. Whether you are a marketer or blogger following addons will meet your need.
So, feel free to explore the addons from our list. As you know, Master Addons is a big set of addons. Which comes with different plugins for serving your purposes.
That is to say, you get Master Addons with huge functionality. You are getting all your necessary addons in a pack. Isn't Master Addon cool in this case? Share your thoughts about Master Addons right below